How many times have you been so angry at someone but you can't let it out in the moment? Whether it is an argument at work or some tension in a dorm, these conflicts don't always lead to direct confrontation. Instead we vent our frustrations and anger passively which is frustrating for everyone involved. Want to make sure someone knows they messed up? Then go for this classic trick: the hilarious passive-aggressive note. If you're looking for a little inspiration look no further - these notes are both diabolically genius and absolutely hysterical. 
Stuck In The Friend Zone
When this person saw this ambiguous note he was ready to have some fun with it. Playing on the different meanings of the word date, he decided to make a classic Dad joke and leave it next to the original note on the wall.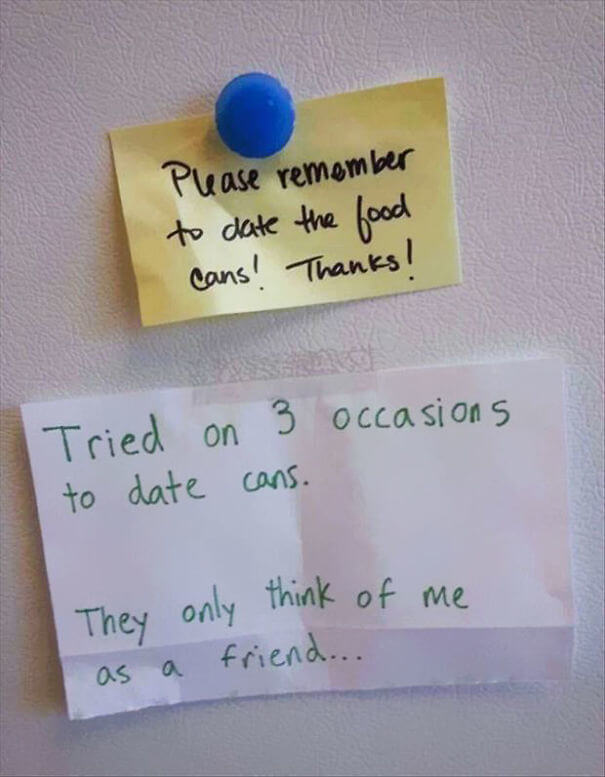 When others saw the cheeky reply they just couldn't help but giggle at the bad joke. It's dad jokes like this that are so cheesy they are actually good. We can't help but wonder why someone would need to put the date on a can when they already have them on the label.
Can't Touch This
This must really be a fun place to work. After their colleague went a little crazy about her personal mug and left a massive note on the kitchen cabinet, these coworkers decided to get creative with their response.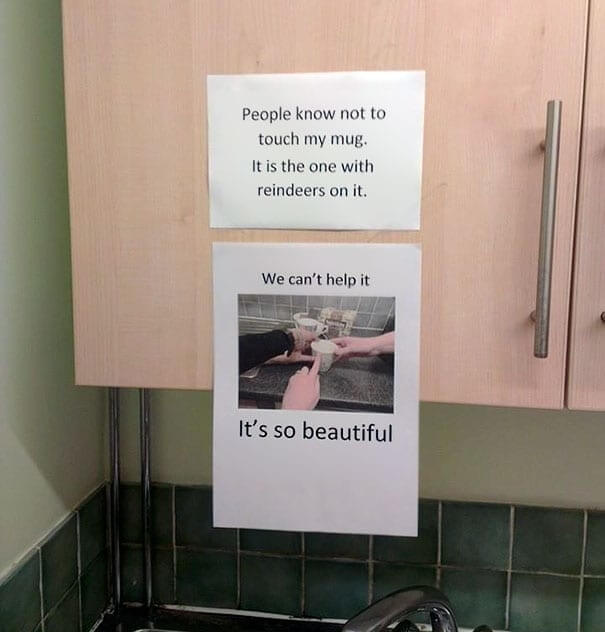 The next day they had posted this funny picture just to mess with their coworker. Hopefully next time this employee will just ask nicely instead of leaving a massive snarky note for all in the office to see. 
Easily Scared Programmers
Sometimes using humor to get your point across is the best way to go. When these programmers found they were distracted by the noise coming from the surrounding offices they decided to put up a note that would get people's attention.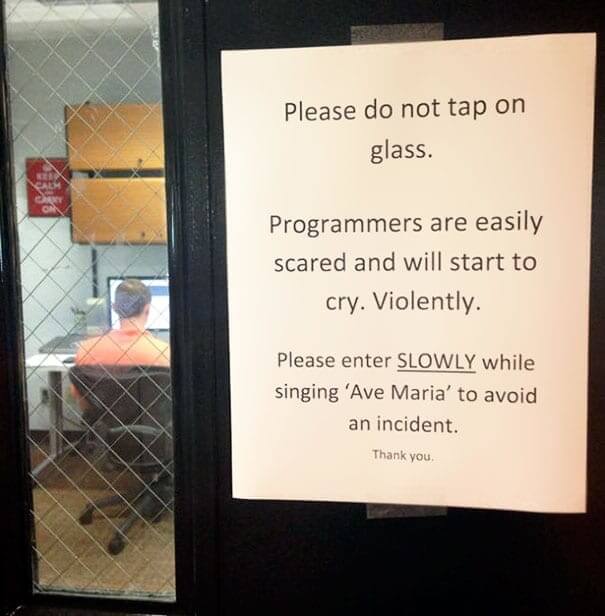 It sure worked! Not only did it reduce the noise levels but it also made their colleagues smile. Plus every now and again someone would walk into the office and gently sing Ave Maria to them. Now that's a great note!
A Sandwich Named Kevin
Sharing an office fridge with your colleagues is not always easy, and you have to be as considerate as possible to make it work. Luckily this office has a great note posted on the fridge door to remind people to respect other people's food.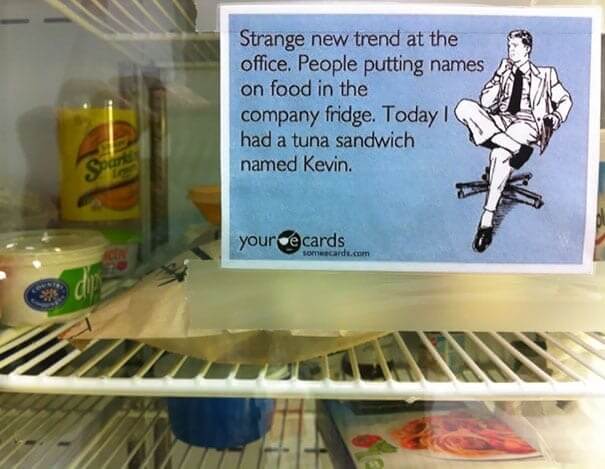 We are not sure if it works, but one thing is for sure, the HR department in this office has a great sense of humor. If a Kevin ever did work there, his food would probably be eaten first. 
Fortune 500 Company - Not A Lemonade Stand
Offices can be noisy places and often it's important to keep doors closed to keep unwanted noise out. So it's no surprise then that someone would find a note like this. What was surprising though, was that the note was typed in one of the most unprofessional fonts.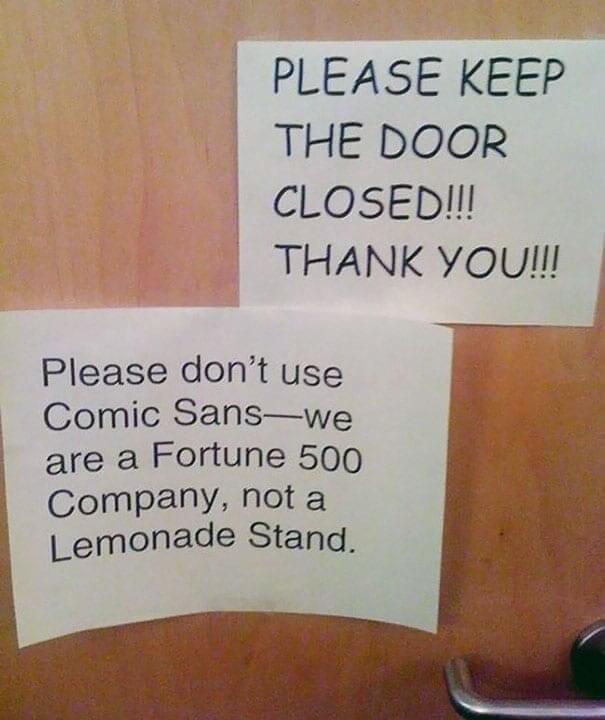 For a Fortune 500 company full of professionals and experts, you wouldn't expect to see the same kind of font you would expect in a kindergarten. Or of course, as the second note says, at some kid's lemonade stand. 
Thank You For Flushing
Here is another fine example of funny wordplay. This clumsy note wasn't very well written and pretty soon people had taken notice. With different meanings of the word check, it's no wonder people started placing check marks on the sign.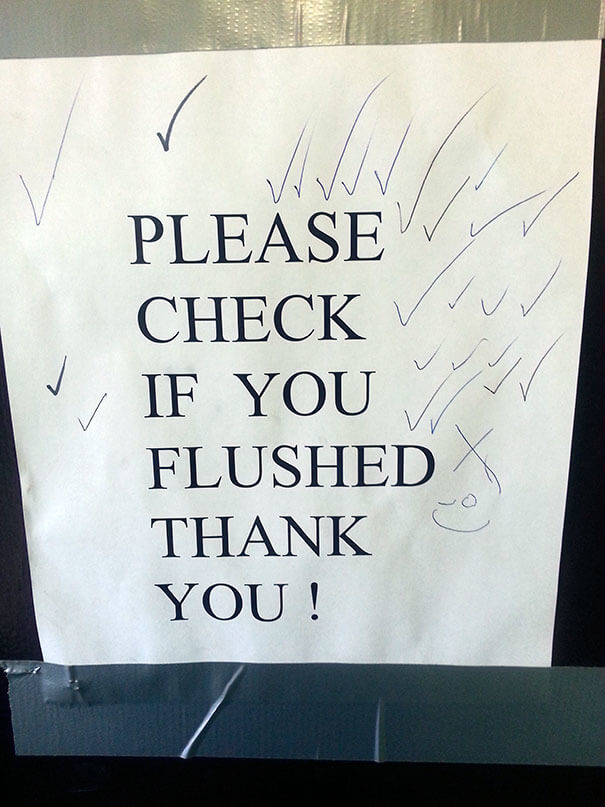 However, it is a little troubling that people would need to have instructions on how a toilet works. Seems proper toilet etiquette isn't what it used to be!
None For You Debbie!
When you open the fridge and see that your roommate has done this, it may be time to move. When Debbie opened her fridge and saw that her roommate had marked all her own food she was a little annoyed instead of feeling shamed.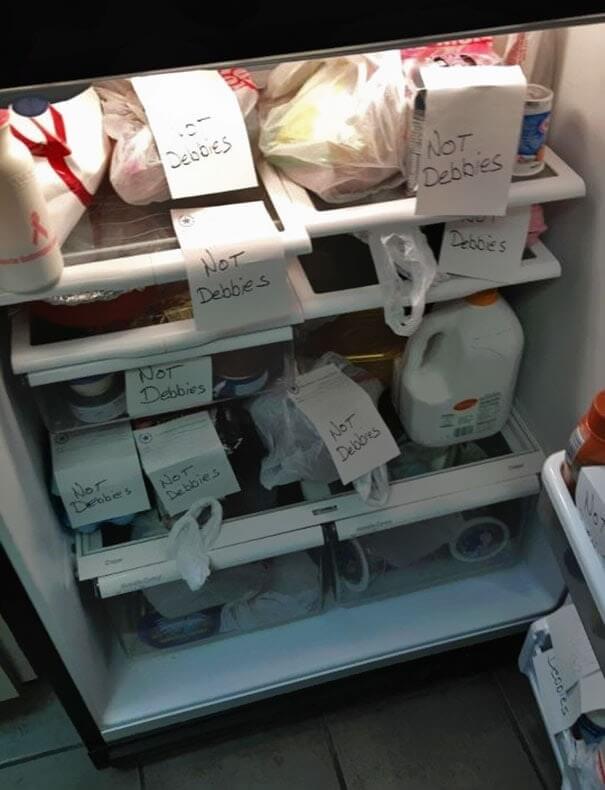 However, we stand with the roommate on this one. If Debbie is going to steal someone else's food she deserves to find something like this. Judging by how little food Debbie has in the fridge, it may be time for her to do some shopping.  
Mom's Got Something To Say
Now you might think this is a sink in an office kitchen at first, but after a closer look, you will find this is the sink in someone's home. You'll be surprised to know that this note was left by a frustrated mom who was desperately trying to get her point across.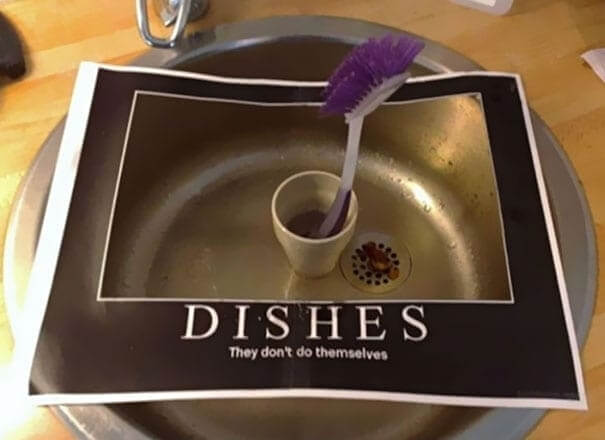 When her teenage sons kept forgetting to wash their dirty dishes, this mom decided to leave a funny note for her kids that was on their level. This meme - themed note quickly got her son's attention and they haven't forgotten their dishes since!
How Spelling Ruins A Message
We can't help but wonder how many people absent-mindedly read this note and didn't notice the massive spelling mistake. Luckily one coworker noticed the mistake and was quick to point it out to everyone in the office.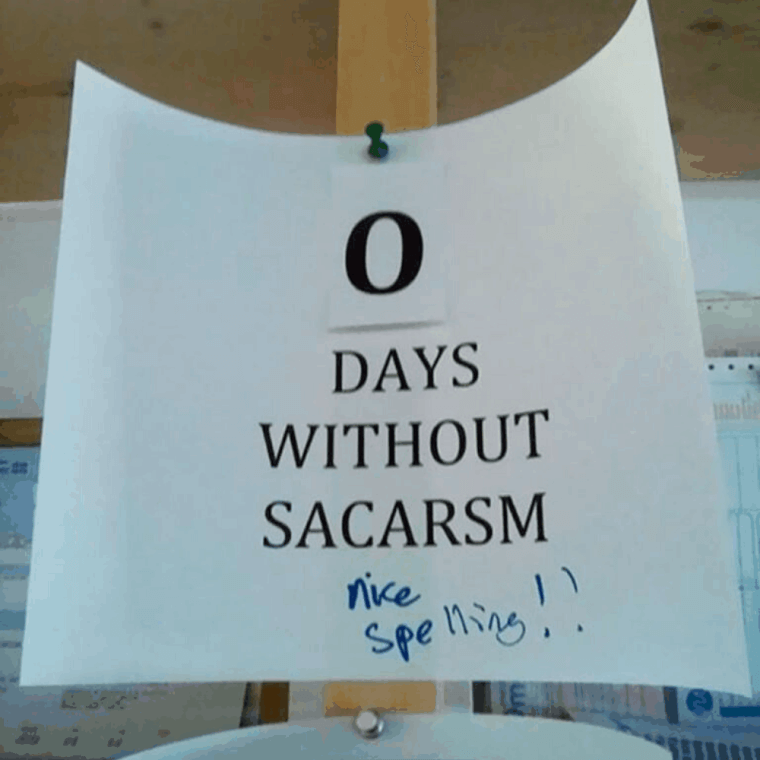 That must have been quite embarrassing for the person who put up the sign in the first place! That's why when typing up a passive-aggressive note, one should always use spellcheck and review it thoroughly before printing. 
Never A Dull Moment With Dave
There is never a dull moment when it comes to communal fridges. When an employee named Dave noticed his ice teas were disappearing from the office fridge he marked each bottle with his name. When that didn't work he decided to be more obvious about it.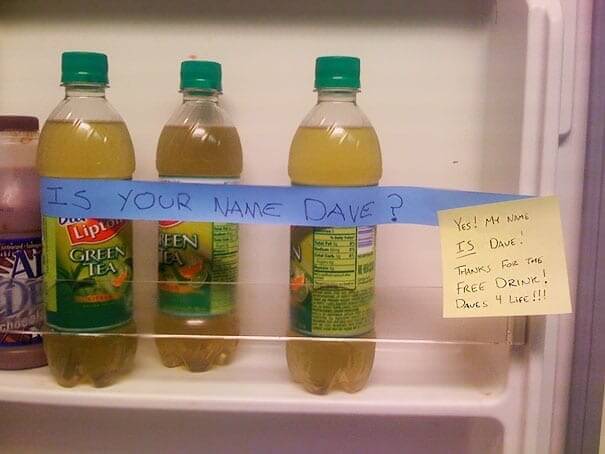 When he left a snarky note on his drinks he never expected a reply like this. Turns out another Dave in the office had been drinking all his tea. Is it still stealing if your name is on it?
Printer On The Fritz
This workplace joker is on fire with this little note! When the printer button was accidentally broken, he left this funny note to troll his coworkers but little did he know it would all backfire. While you may think he got the last laugh, that wasn't exactly the case.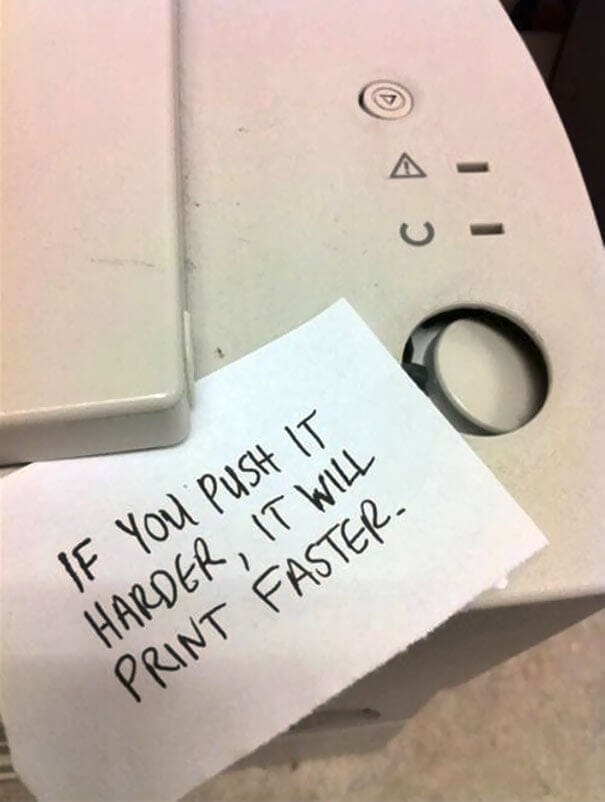 Some of his coworkers must have believed his little note, because ever since the printers button is broken on a regular basis. Hopefully, he learned not to leave notes that would confuse his more gullible coworkers.
Steve Would Approve
When you print up a large sign to go on the office wall, you better make sure it cant be construed in another way. Otherwise, your colleagues are sure to make fun of it. Take this funny sign for example.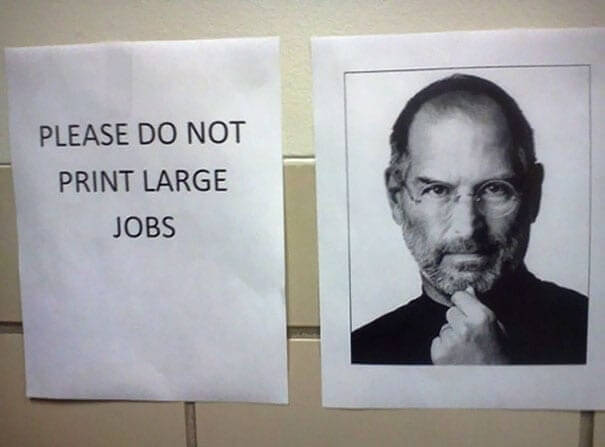 Not long after the office manager had put up the sign, someone in the office printed up this large picture of Steve Jobs. We don't know about you, but we think the employee that did this deserves a raise for creativity and wit!
Too Busy For Service
Being a server in a busy restaurant can be extremely stressful and unrewarding, especially when the customers are rude and obnoxious. When this server found this rude note written in ketchup, they immediately shared it on social media.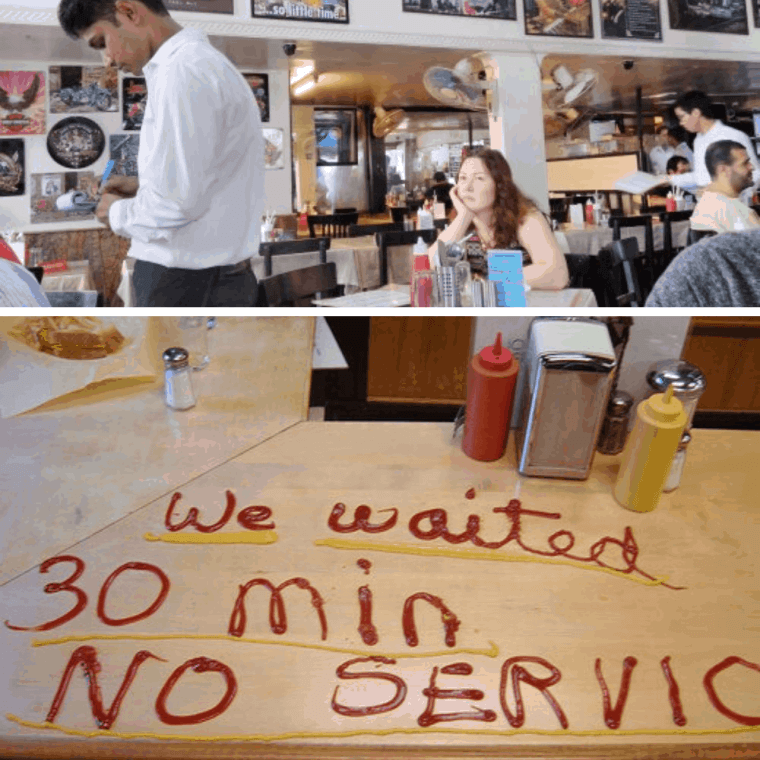 People online couldn't believe how rude these customers had been, and pretty soon the pic went viral. We hope that when the culprits saw their handiwork online they felt pretty foolish about how they had behaved!
A Serial Offender
It seems this office had a bad case of food theft in their kitchen. As more and more people left detailed complaints on the fridge about their stolen food, one coworker decided to get in on the act and join in on all the fun.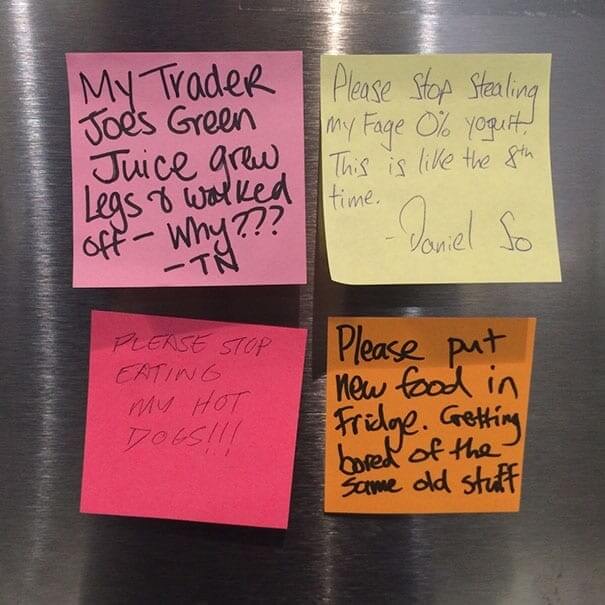 While we are not quite sure this last note was only a joke, it would be pretty hilarious if it was actually a note left by the food thief. It seems like there is never a dull moment in this office!
Parking Between The Lines
Some drivers can really be inconsiderate, especially when it comes to parking. While most are able to park between the lines, some people just don't care where they park. It's drivers like this that just rub people the wrong way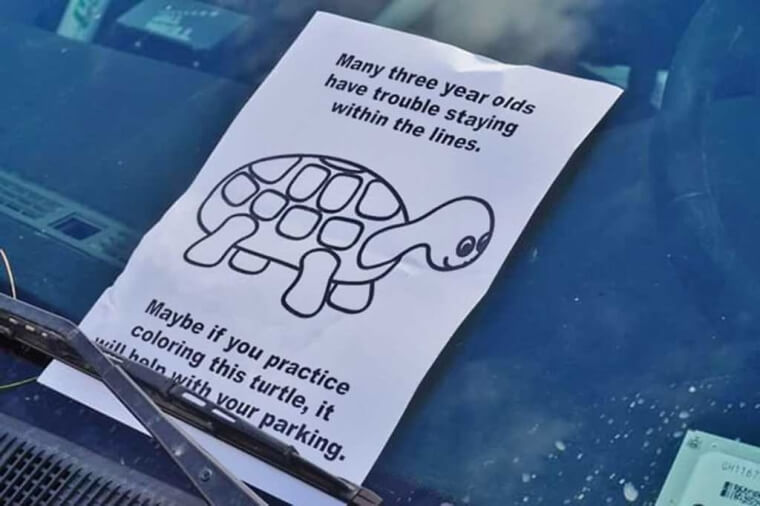 Luckily when this person noticed that the car next to them had taken up almost two spots, they had the perfect response. They left this hilarious note on the person's windshield for all to see. Imagine how embarrassing it was when the driver saw this note waiting for them!
Don't Forget Jesus Is Watching You
Nothing is funnier than using someone's own argument against them. When this student left this funny note next to his sodas, he never expected to be schooled on scripture and lose all his sodas in the process.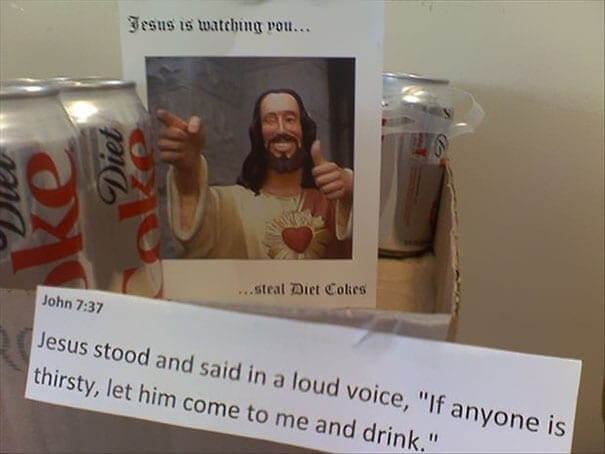 Next to his note, someone placed printed out a bible verse that made his original note seem pointless. Needless to say, it wasn't long before all his Cokes were gone! Technically it's not really stealing if it's in the bible right?
All Clogged Up
Sometimes living with girls can get just a little bit messy. While for the most part, it's not too much of a big deal, this boyfriend decided to make a stand. Hopefully, his decision didn't backfire on him!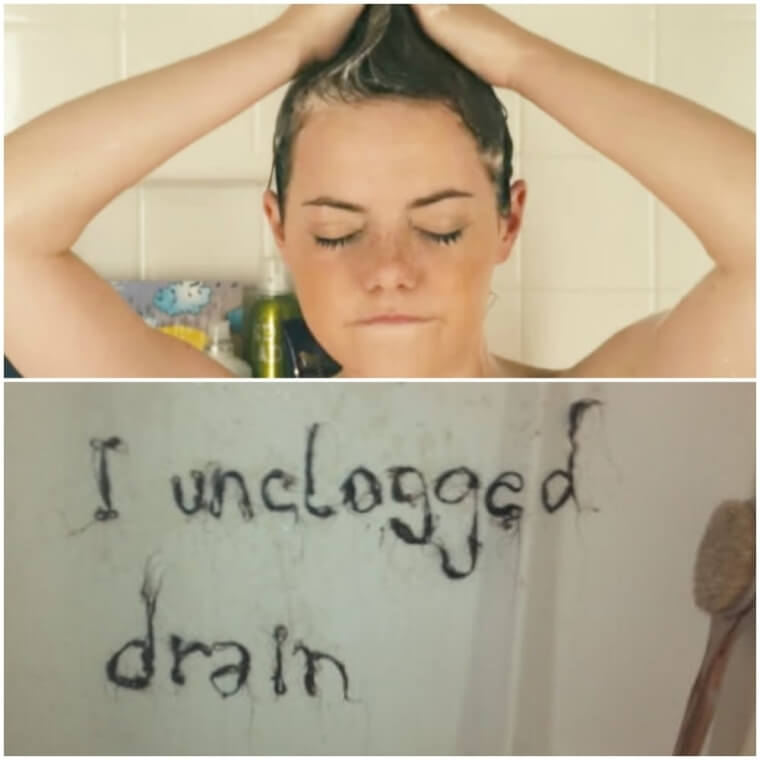 When his girlfriend kept bugging him to unclog the shower drain he eventually broke and decided to do it. However when he discovered it had been her hair that had created the problem he decided to make this statement/ artwork. Naturally, his girlfriend was too happy about it. 
Smelly Office Drama
There is some drama in this newsroom! When a coworker grew tired of the smell of food in the trash, they decided to put up a note to prevent people from throwing food in the trash. While they said they spoke for everyone, we are not sure that was true.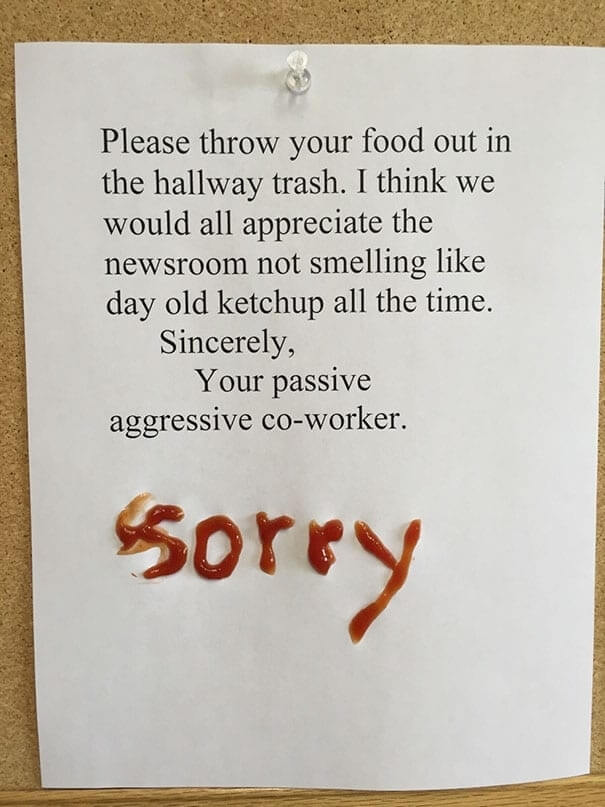 Nevertheless, when their colleagues saw the passive-aggressive note, it didn't take long for someone to retaliate. It seems that instead of leaving spiteful notes, this person could have just asked his coworkers nicely. 
A "Loving" Farewell
Leaving a job where you have worked for years can be tough. Having to say goodbye to friends and leave a place you loved is always a difficult loss. Luckily it's not as hard when your coworkers give you a cake like this.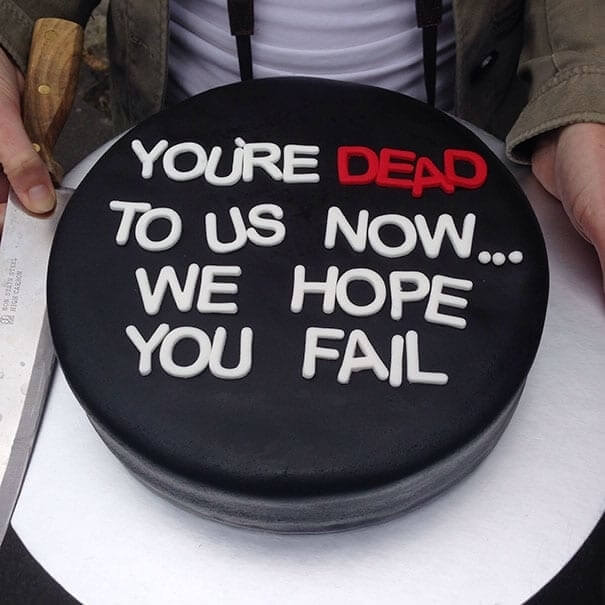 Instead of having the baker write a soppy message on this farewell cake, management decided to go with something different. After all, nothing says good luck with your new job than a cake like this!
No Shame In His Cake Game
Office birthday parties are great. There is always a tasty cake to enjoy and you also get a few minutes to socialize in the break room. However, this trendsetter wanted to do things differently. Instead of taking a piece of cake like everyone else, he put his own spin in it.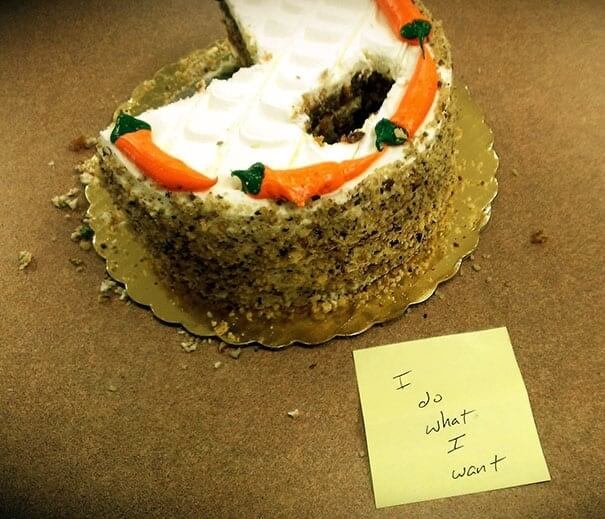 When he found the leftover cake on the counter he decided to take a piece from the middle. Just in case anyone complained about it, he left this cheeky note to make his point clear. Let's hope no one recognizes his handwriting!
Peanut Butter Problems
If you have ever lived in an apartment building you will know that nothing can be more frustrating than people's guests blocking you in. When this tenant found someone's car parked behind her, she had had enough and decided to teach them a lesson.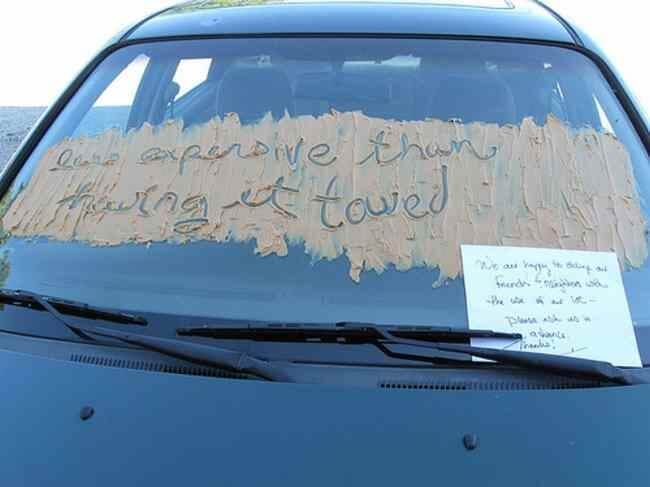 Instead of spending precious time calling for a tow truck, she grabbed a jar of peanut butter from her kitchen and gave this driver windscreen a makeover. In the peanut butter, she was able to leave a clear message. Now, this must have been a pain to clean up afterward!
Really? Oh Yea, Really
Having a roommate isn't always easy. Like most relationships, there is bound to be some disagreement and tension. When these roommates couldn't agree on whose night it was to do dishes, it quickly devolved into some passive-aggressive behavior.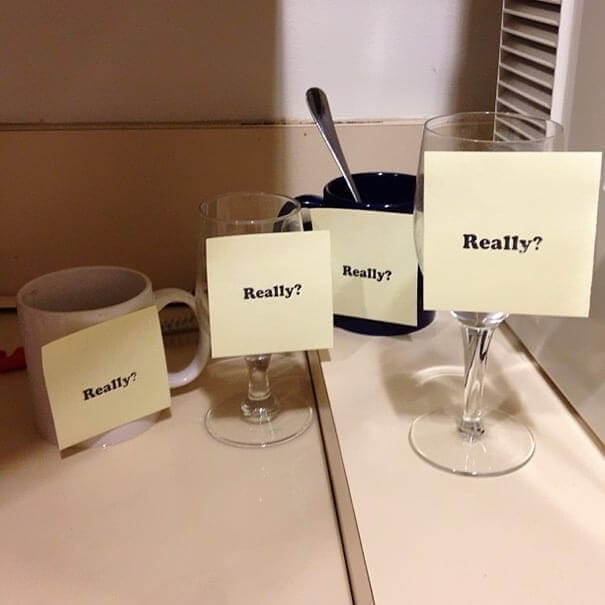 Instead of washing the dishes her roommate had refused to wash, this woman had had enough. So she decided to leave some notes her roommate couldn't argue with. Seems like these two may need a chore schedule or a couple's counselor. 
Holy Cow!
When these four young bachelors decided to move into a house together, they figured it would be smooth sailing. After all, they had all been best friends since Middle School. However, it didn't take long for their different personalities to clash.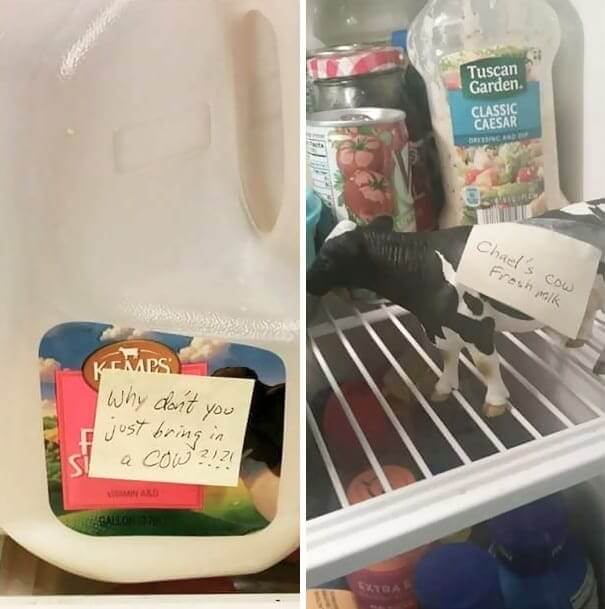 For instance, when Chad bought a massive jug of milk that took up too much fridge space, his roommates quickly got annoyed and left him a challenge. So, the next day, Chad did exactly what they suggested. They haven't complained since. 
False Advertising
Are you tired of your coworkers stealing your food? No problem, simply do what this person did and make your food look unappealing with this little trick. Here this coworker went to the trouble of making her Lactasoy look dangerous for your health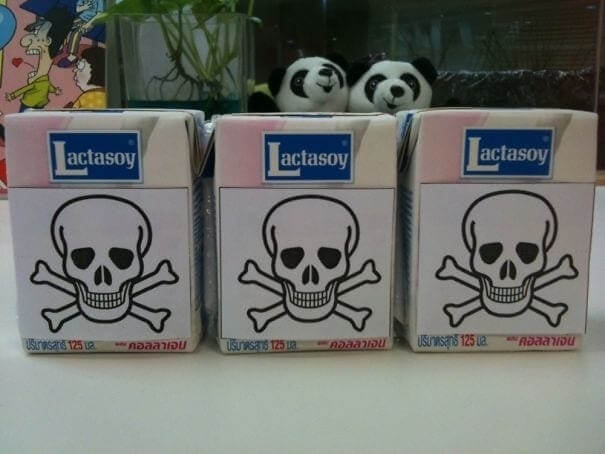 We doubt anyone will have the guts to grab one of these without thinking twice about it. Then again, it may not be the labels that are putting people off these products. We wager it is most likely the product itself that has others saying no thanks!
Germaphobic Coworker
While most of the notes you will find in the workplace kitchen are within reason, every once in a while you can come across something a little more extreme. These strange notes are perfect examples of this.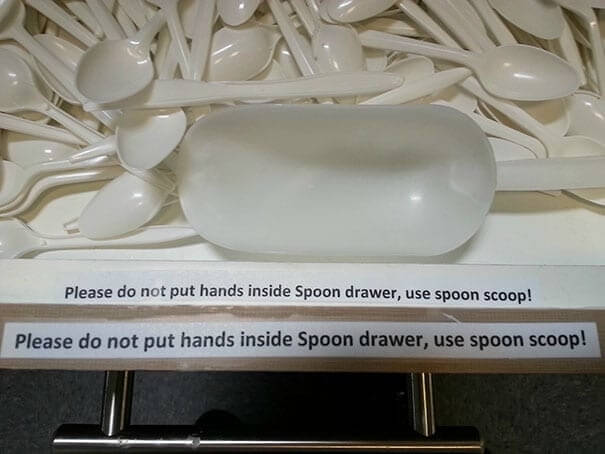 This person must be really anxious about others touching their spoons because not only did they leave the note once, they left it twice. If the notes weren't bad enough, the spoon scoop was notoriously difficult to use and, most of the time, people just grabbed the spoons with their hands anyway. 
Straight To The Point
No one likes washing dirty dishes, especially when they are not your own. So, when this annoyed woman found her roommate's dishes abandoned in the sink, she decided to leave a funny but poignant note that her roommate wouldn't argue with.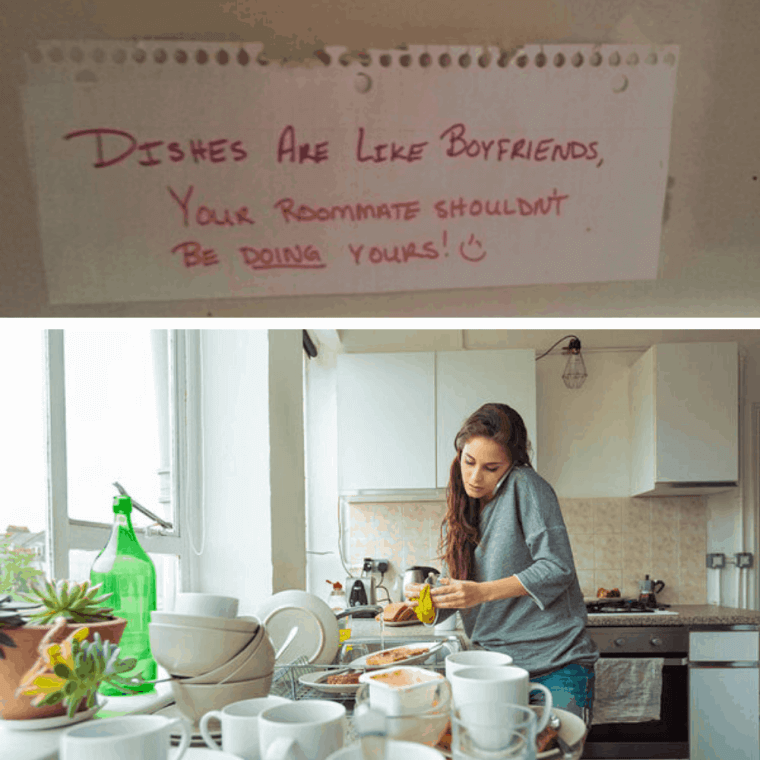 We have to say, we think this message really gets the point across. After all, how can you argue with a note like that? Not surprisingly this roommate never left her dishes unwashed again. 
A Disgusting Warning
Here is something to put you off your lunch for good! When this person discovered that their lunch had been repeatedly stolen from the office fridge, they decided to put up this gross note to discourage the thieves and ruin people's appetites everywhere.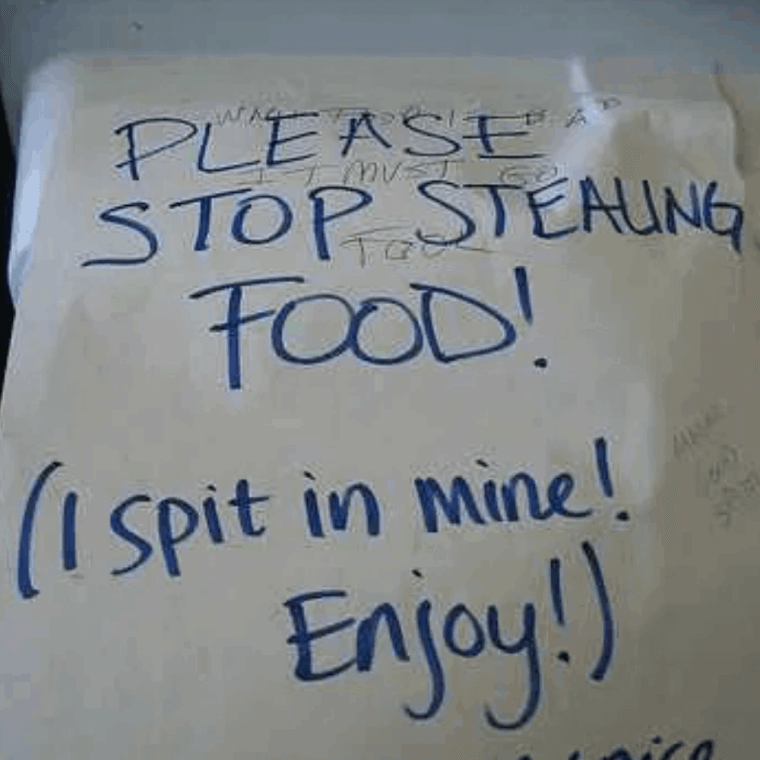 Couldn't they simply have labeled their food and spoken nicely to their coworkers before going to this horrible extreme? That is just gross! We bet the HR department had a field day with this incident. 
Nobody's Getting Out Today
When this friendly Grandma left this note to remind her family to keep the back door shut, she never imagined getting this kind of response. After just one day she was shocked to notice that someone had written all over her neat little note.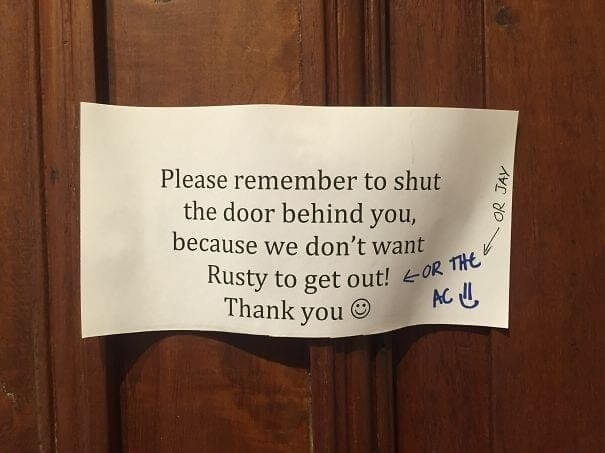 First, her husband Jay had added the AC to the list. Then a few hours later, their son-in-law added Jay's name as well. It looks like neither Rusty nor Jay will be escaping the house anytime soon!
Sarcasm Much?
When it comes to passive-aggressive notes, nothing is better than dry, harsh sarcasm. However, there is one simple rule to follow. If you are going to be mean you need to make sure that the person receiving the note doesn't know who you are.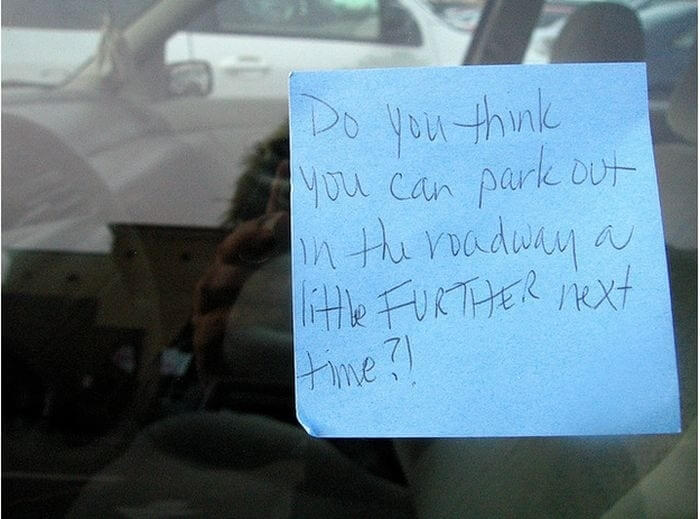 When this neighbor stepped out in the morning and found this post-it on his driver's side window, it wasn't too hard to figure out who had left it. After all, he only shared the driveway with one other person. Looks like the relationship between these neighbors is about to get chilly!
Rich With Experience
When trying to grab someone's attention, a foolproof way to do it is to use humor. This way, instead of the same old sign people will just ignore, the funny sign will really get their full attention.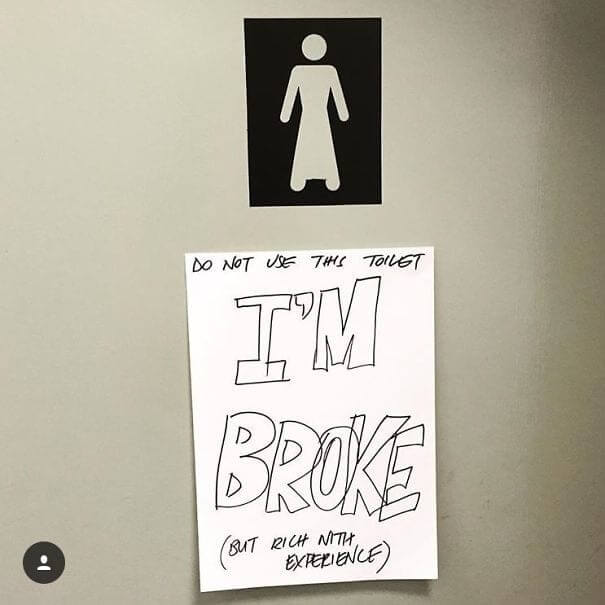 So when this ladies' toilet was on the fritz, instead of the regular out of order sign that wouldn't get much notice, the employees used this sign. We especially like the bit at the bottom of the sign!
No Spoilers... Or Else!
At its height, Game of Thrones was one of the most popular and most talked-about shows on TV. Each new episode was full of surprises and intrigue. While most people couldn't wait to discuss the latest episode as soon as it aired, others developed a real fear of GOT spoilers.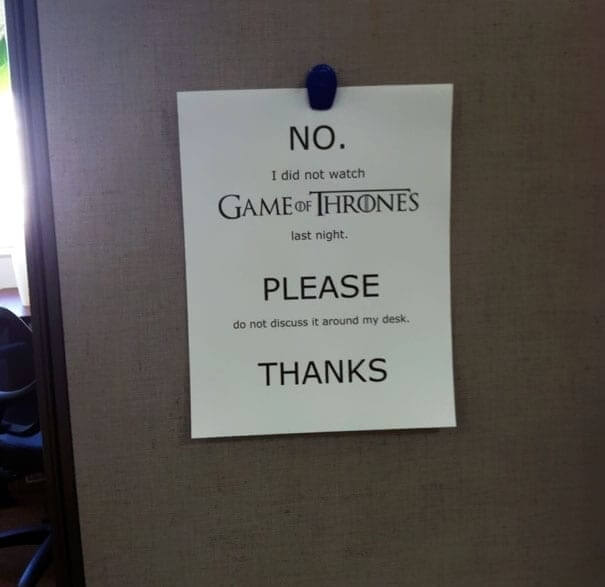 This smart coworker decided to put up this sign on their cubical wall. This way no one would be tempted to give away the latest deets accidentally. We can't blame them, nothing can ruin your favorite show more than spoilers!
There's No Place Like Home
Passive-aggressive notes don't just come in an anonymous form, take this couple for example. When his wife had had enough of finding empty toilet rolls all over the bathroom, she decided to leave her husband a little reminder. His amusing response would be classic.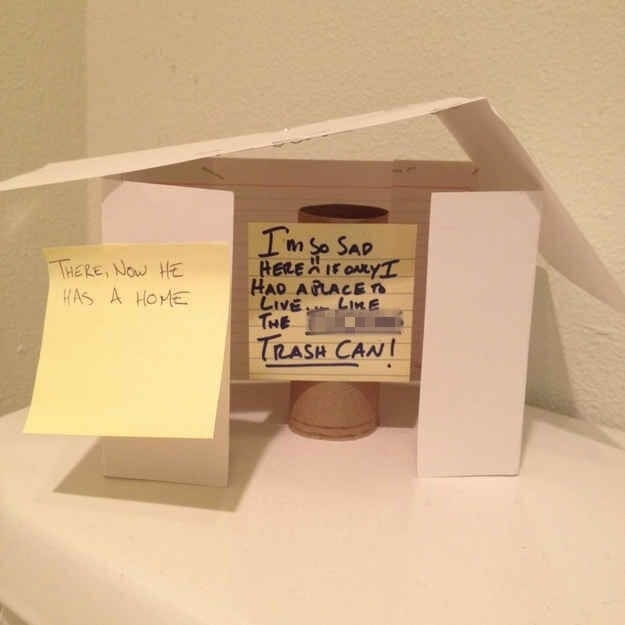 Nothing could have prepared his poor wife for what he had planned in response to her note. We must admit that what he did was pretty funny. But unfortunately for him, his wife didn't see it that way. Hopefully, this husband enjoys sleeping on the couch!
Let's Be Honest
While most notes people leave on other people's cars are often rude and contain a lot of swearing, this person decided that honesty was the best policy. After repeatedly seeing a strange van parked outside their house at night, this person had to be honest with the driver. 
Honestly, we can't blame them. Imagine repeatedly seeing a creepy looking van parked in the shadows outside your house late at night. Hopefully, the driver wasn't too offended and found another place to park.
Too Far, Or Not Far Enough?
Sometimes passive-aggressive notes can be taken a little bit too far. Take this note for example. Instead of just telling their roommate the milk was off, this person staged this elaborate setup for his roommate to find.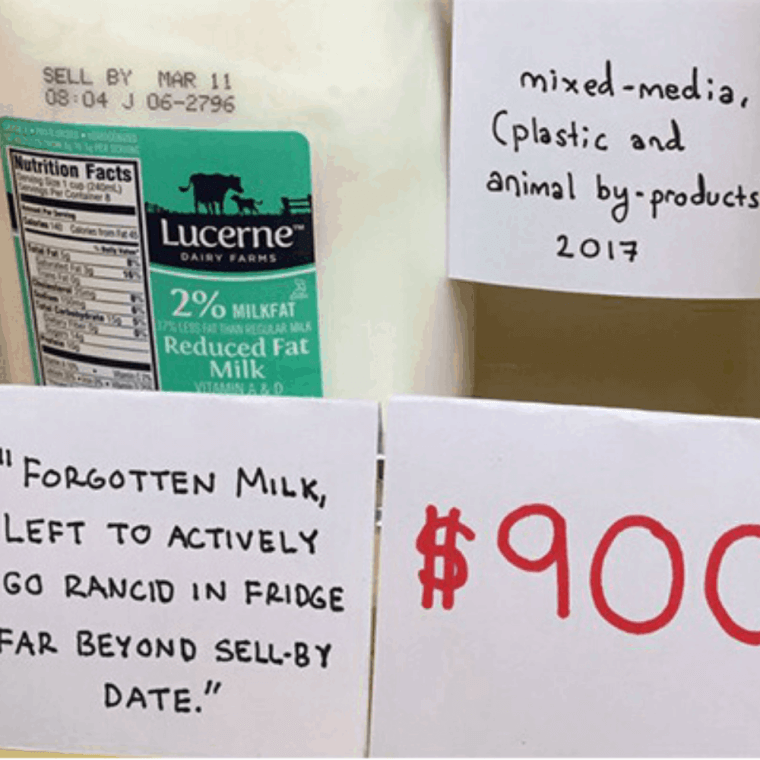 With not one, but three annoying notes this roommate made his feelings clear. You have to wonder though, why didn't he just throw the milk out and live his life? We guess some people are just a little bit extra. 
Let's Not Risk It
When people leave signs like this up in the bathroom for all to see, it's only a matter of time before someone leaves a cynical reply. After all, with a crazy claim like this how can you not leave a funny reply?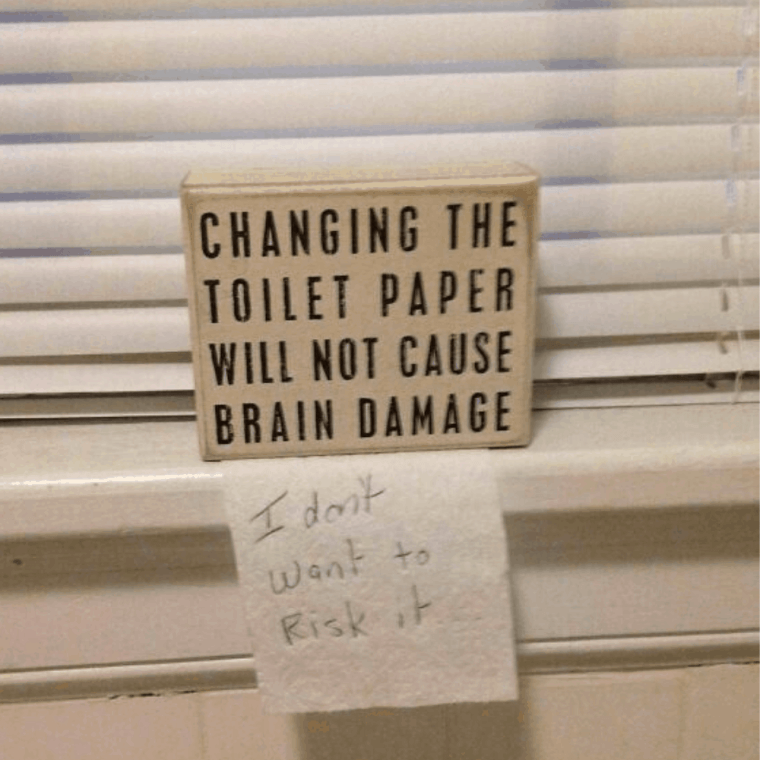 This old sign was just begging to be messed with and the results are pretty funny. What makes this second note underneath even funnier is the fact that it was written on toilet paper. Oh, the irony of it all. 
Calling Out The Horrible Neighbors
They say nothing good can come from airing your dirty laundry for all to see. But for this fed-up neighbor, enough was enough. After an inconsiderate pet owner repeatedly failed to clean their dog's mess something had to be done.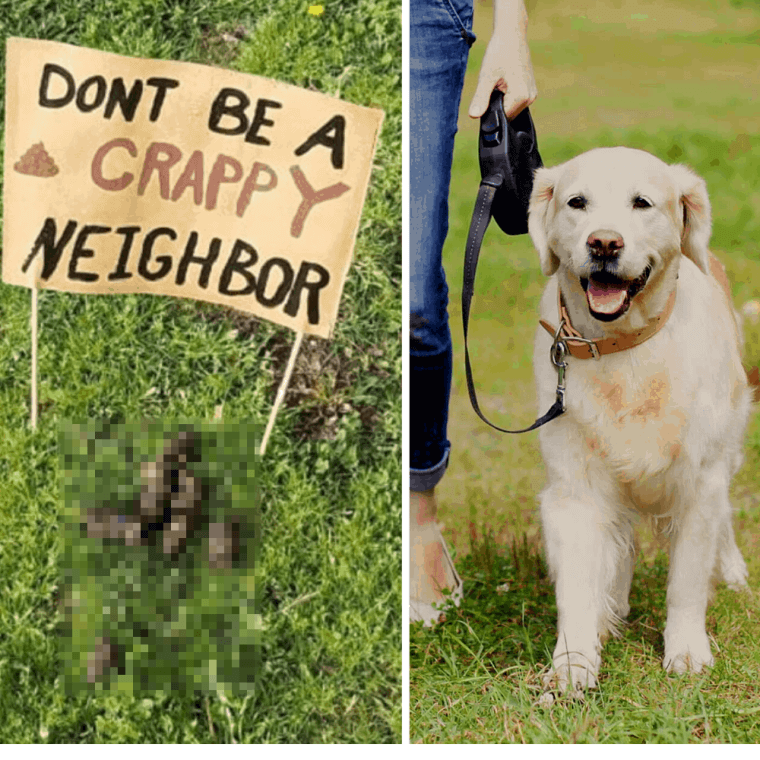 So the fed-up neighbor made this sign to place next to the latest mess that was left on their lawn. While the sign made most of the neighbors laugh, it also made the guilty party feel pretty bad about what they were doing. So this lawn was no longer being fertilized by a thoughtless neighbor.  
The Perfect Brew
We guess this is what happens when two passive-aggressive people cross paths and face off against each other. Instead of a simple back and forth face-to-face, it seems these two had a lot to say about brewing the perfect pot of coffee. And thus coffeegate began!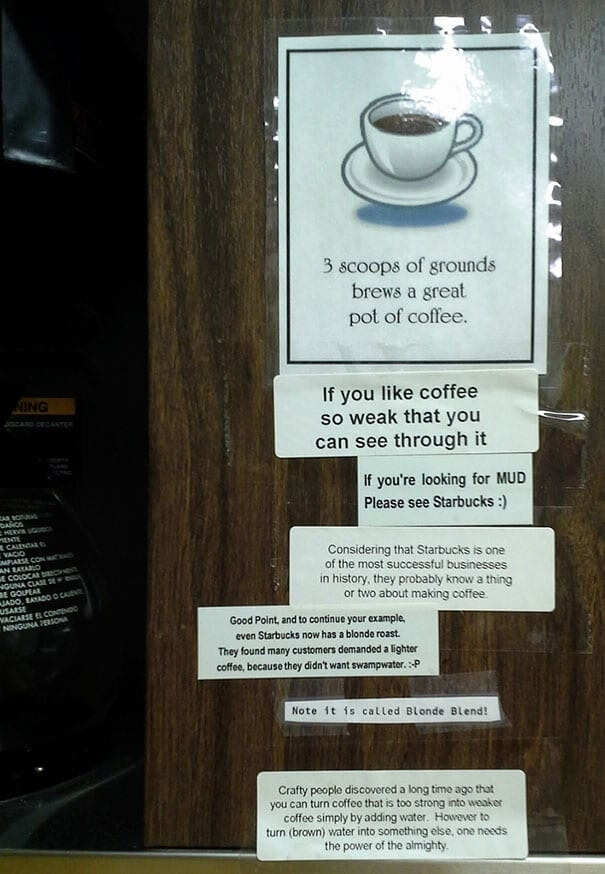 Instead of just talking to each other face to face, these confrontation-phobes decided to hash it all out with a series of snide and overly friendly notes that littered the office walls. It looks like eventually, they ran out of space for new notes, otherwise, this could have gone on forever!
Just A Not-So-Friendly Reminder
Okay, so this is one of the funniest notes a parent has ever left for his wife and children. When this dad had had enough of his family leaving their dishes in the sink, he decided to make a final stand that would end his suffering.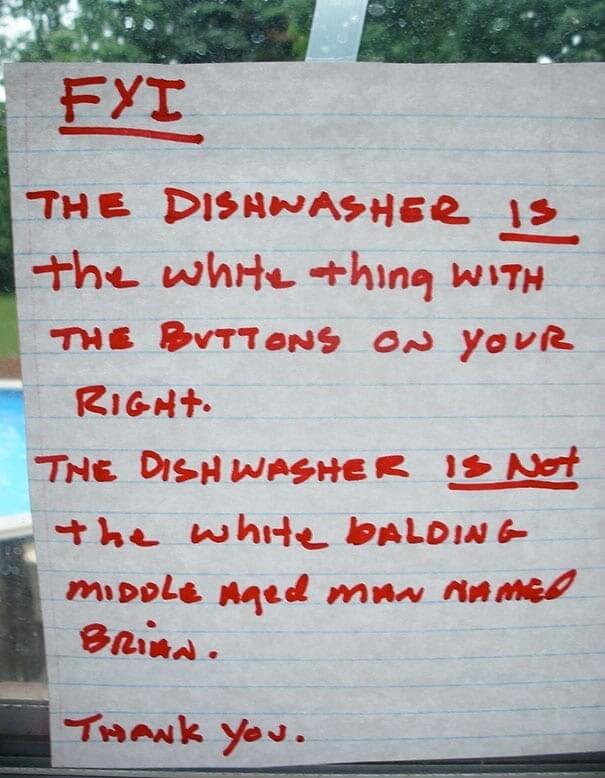 He left this note for the family to see and hopefully they got the message. Poor Brian, it must really suck when your family confuses you for an appliance! It's insane how many of these notes are about washing dishes. 
Carolyn Just Isn't Having it
It seems Carolyn woke up on the wrong side of the bed this morning! While this note didn't actually mention her by name, Carolyn immediately got defensive about the note.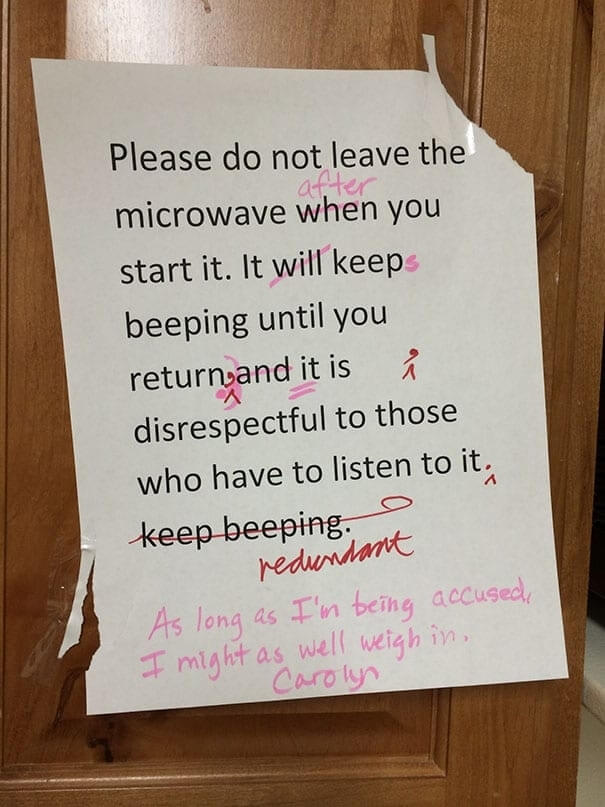 When her colleagues put up this note not only did Carolyn leave a snide note at the bottom, she also spellchecked the note for errors and mistakes.  While no one had actually accused Carolyn of anything, Carolyn's guilty conscience and over the top reaction gave her away.
A Story With Pictures
Sometimes you have to get creative to get your point across, and this sign is the perfect example. Not only does it use a little humor, but the colorful picture of a hungry toilet adds nicely to the overall effect.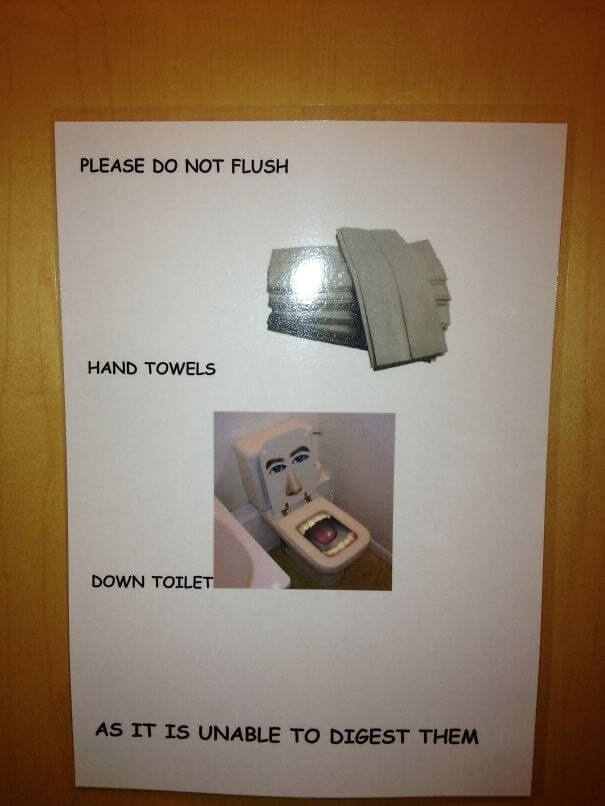 However, we would just like to point out that the hand towels wouldn't be a problem if the staff just kept the toilet paper well stocked. It seems like all this fuss could have been prevented with a trash can and an adequate toilet paper supply. 
Just Let It Go
Okay so if you are fed up with hearing the song from Frozen everywhere, then you will agree that signs like this should be compulsory in all workplaces. Let's face it, there is nothing worse than hearing Dave from Accounting belt out 'Let It Go' every day.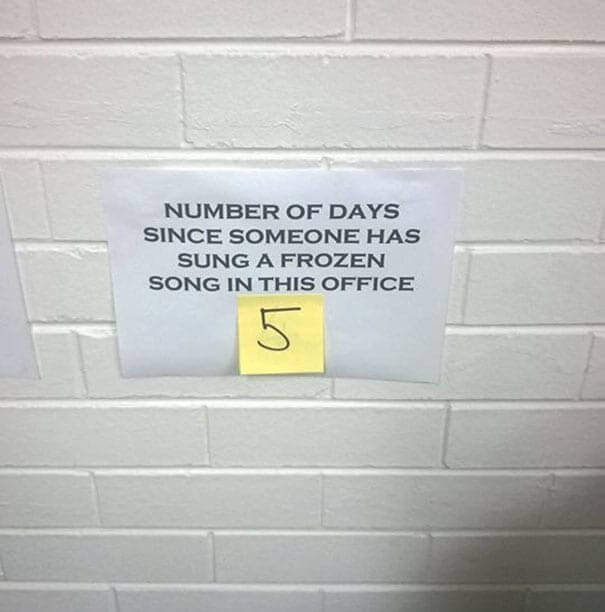 With its catchy tune and annoying lyrics, people very quickly got tired of the popular song. Yet everywhere you went you heard it. Thankfully these office workers decided to put up a funny sign that deterred anyone from singing the song. 
The Urge... Must. Fight. IT
Nothing can be more tempting than when someone tells you not to do something but doesn't provide you with a good reason why. In these annoying situations, it's no wonder people do exactly the opposite of what they are told.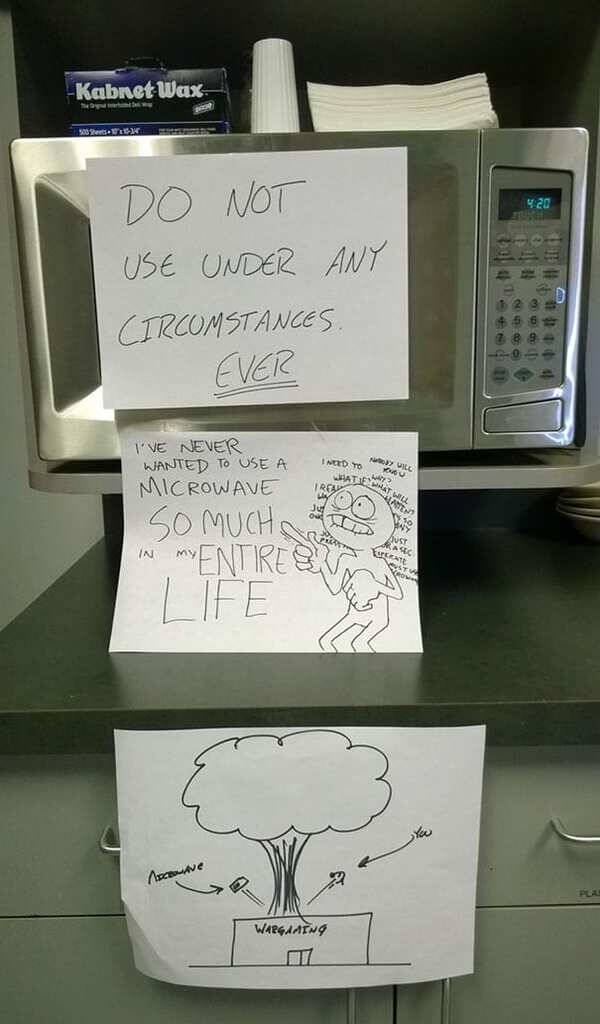 That's why when coworkers found this note on the office microwave their curiosity was immediately peaked. After all, with such an extreme warning note you cannot help but wonder what would happen if you used the microwave anyway. Hopefully, they have fire insurance. 
Don't Be Alarmed
Have you ever accidentally walked through an alarmed emergency exit and had to live with the embarrassment of having everyone see (and hear) you do it? Well if you have, then you probably wish that door had had a sign like this.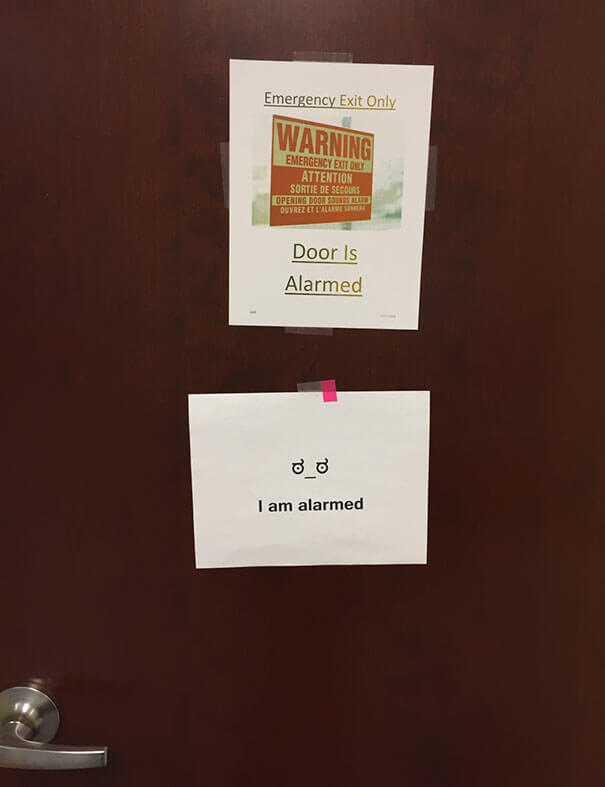 While the response note is pretty funny, we can't help but wonder if the author is alarmed for real or if its just some smart wordplay. After all, if we walked through a door with an alarm we would be pretty freaked out too.
The Trouble With Socialism
Now, this is a bit extreme. Not only did this aggravated person leave a full-page note, but they also left a four verse poem! After all that effort you wouldn't be wrong to think it was because of a serious trespass.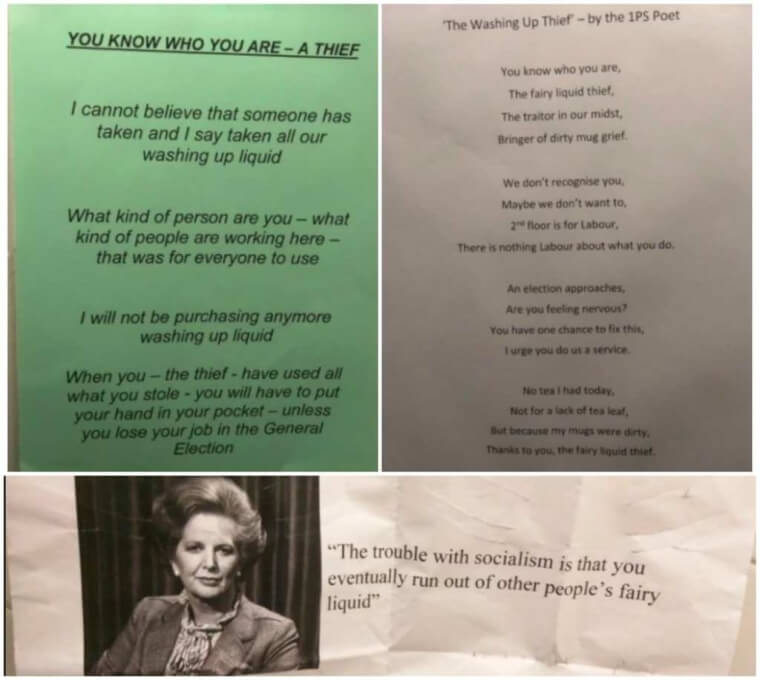 Sadly this whole fiasco was all over some missing dishwashing liquid. While the person who left the note made a really big deal about it, they were left with egg on their face when hours later they discovered the liquid had been placed in the cupboard instead of on the countertop. 
Not Your Mama
This note is extremely passive-aggressive. Not only is it dripping with sarcasm and rage, but it also references someone's mother. Whoever left it must have really been hopping mad.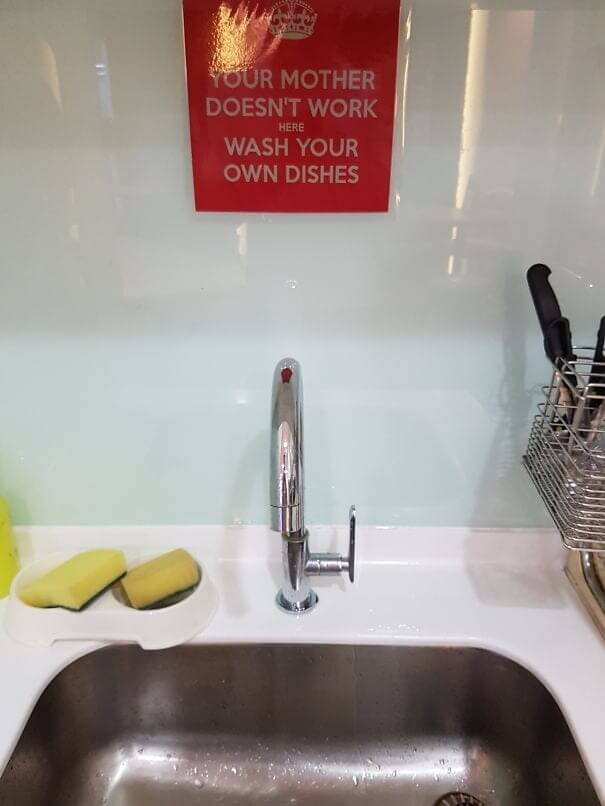 Needless to say, people no longer left their dirty dishes in the sink after that. With a note this demeaning we are not totally surprised by their huge change of heart!